Do you employ craftspersons or do you work through commissions?
I usually work directly with craftsmen, but in some situations agents may be involved. Both arrangements can work to a designers' advantage, depending on the skill level of the people involved.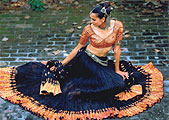 Do you give them the designs or do you work with the existing traditions and then modify them within your creations?
I have very strong views in this context. Firstly if we are working with a traditional craft, it is important to understand the cultural, social and if I may say so, the spiritual aspects of it. As a designer, I feel it is not my job to abstract, distort a tradition to suit my purpose, leaving the poor craftsperson wondering about the implications of the change. A deviation he neither comprehends nor is capable of sustaining for a long period of time only adds to frustration. A change through design should be well thought of, it should inspire and yet challenges traditional sensibilities. Hence I am a strong advocate of growth in the traditional repertoire and not of mere copying and remobilization of traditional skills. After all we are the same culture that built the Taj, wove exquisite mulmul and painted the finest miniatures! We can innovate without copying… we can create without repetition!!
Hence I try and coax the craftsperson to THINK and then innovate in his traditional sensibility, so that he can learn to sustain his creativity and also provide something new to his market. I start with a general feel of what I have visualized and gently built onto it. Commercial viability, the use of contemporary techniques and materials are important to me. Our culture is of growth 'nitnutanambudmayee' i.e. new, blossoming everyday, just like Nature. This is our essence, and the soul of our crafts. This is what I seek to preserve and enhance.
What is your experience with craftpersons? Do they deliver on time? Are they open to ideas and suggestions?
I have had varied experiences with craftspersons. Some have been an absolute delight to work with while some were a complete nightmare!! But overall I feel that the craftspersons today are aware of their prized position amongst the crafts fraternity, and use this to their advantage. Some are openminded and hardworking, willing and wanting to make it big while the others constantly throw their 'award winner' status to make unreasonable demands! And as for delivering on time, why blame the poor fellows, when the whole country needs to understand time-management! Depending upon their self-confidence, willingness to work hard, ability to translate abstract ideas into concrete forms, the craftspersons can be open to ideas and suggestions. There are those who are clearly in love with their craft and it has become their natural extension. These are the ones who want to innovate and enjoy what they do. The monetary aspects are important but do not weigh heavily in the bargain. The second types are those, for whom the craft has lost its meditative spiritual aspect, it is a mere source of making a living, and every minute counts for them. Innovations for the sake of art are not favoured.